Cretan Culinary Experience
in the Botanical Gardens of MAICh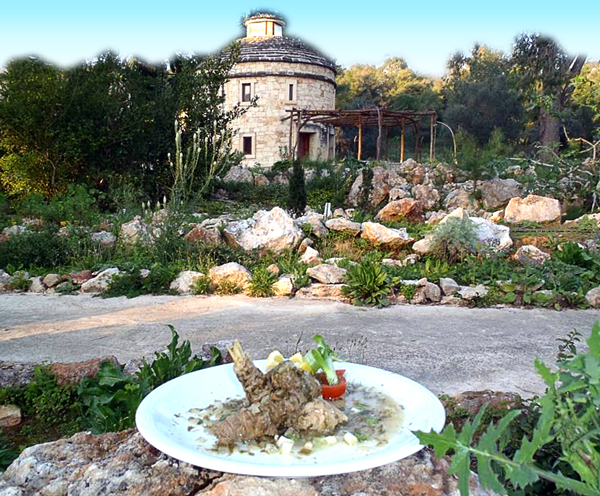 After extensive research and numerous studies, great attention was given to the Mediterranean dietary model and its benefits.
Additionally, in 2010, the Mediterranean Diet was recognized by UNESCO as an element of intangible cultural heritage. A set of parameters such as, the traditional eating habits together with the cultural dimension of the Mediterranean basin and strong evidence for health benefits, are all inherent in this diet. Main ingredients of it are olive oil, cereals and fruit &vegetables.
In MAICh, you can experience the Cretan cuisine based on the Mediterranean products.
Apart from olive oil, our garden produces aromatic herbs which are used for making herbal teas or as condiments to the Cretan cuisine. An excellent manifestation of their therapeutic properties is known since antiquity.
We feel the urge to share with you our praised cultural heritage, and enjoy the experience of the Cretan way of life.
A specialized scientist in aromatic and pharmaceutical plants will guide the guests in the Botanical Garden of MAICh. The garden consists of 4 main sections: 1) Endemic and Threatened Plants of Crete, 2) Ethno-Botanical Garden, 3) Mediterranean ornamental plants, and 4) Collections of local varieties of fruit trees and vines.
Our guests will have the chance to collect plant specimens, enjoy the aromas, experience divine taste and attend a distillation of essential oils. Thereafter follows a hands-on cooking experience, under the expert guidance of our chef, renowned for his traditional Cretan gastronomic creations.
Indicative menu (depending on seasonal ingredients)
Beverages (iced dictamnus, malotyra, sage)
Appetizers (the traditional dakos salad, black taglatelle, traditional pies and rolls)
Salads made of local biological Cretan products in extra virgin organic olive oil
Main courses (chicken with rose flowers, chicken with sage and honey, meat with stamnagathi (chicorium spinosum))
Desserts (preserves and jams from local fruits like figs, grapes, oranges and halva from semolina and orange zest)
Leavened bread
Lunch will be served in the restaurant of conference centre of the Institute, "Méditerranée".
&nbsp
Events
DQS ISO 9001:2008 IQNET Certified Management System
The Conference Center Bureau of the Mediterranean Agronomic Institute of Chania has been certified by DQS GmbH with DIN EN ISO 9001: 2008 for the organisation and accommodation of conferences and related activities